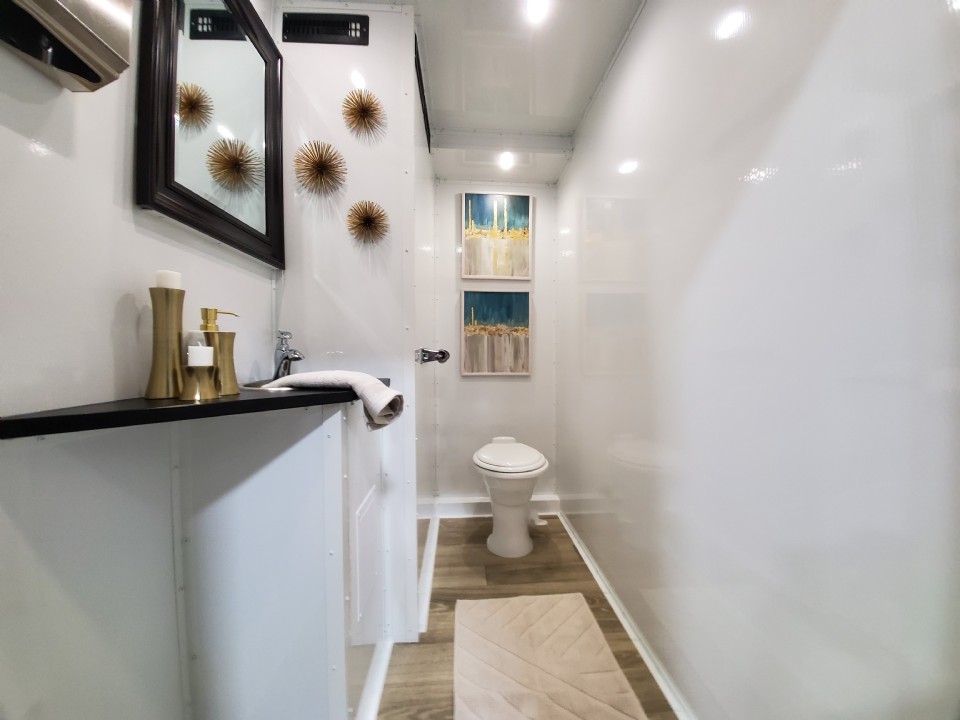 An excellent way to make your mobile restroom trailer feel more like an elegant traditional interior restroom is to add some decorations. A cohesively decorated restroom trailer can greatly add to your guests experience at your event or venue. You can also decorate your trailers exterior or interior to match your events overall creative theme.
Interior design elements such as decorative towels and soap dispensers help add a sophisticated touch to the hand washing area. Wall art including, but not limited to, clocks, white boards, framed or canvas art also help to create the illusion that guests are stepping in to a luxurious interior restroom. Even small, subtle interior decorative touches can add a hint of personality and flair to your mobile unit.
You can light your guest's way to your mobile restroom trailer by adding some solar lights that lead to your trailer's entry way. Adding plants around the exterior or inside of the unit can also help to enhance the trailers aesthetic.
Including graphics on your trailer's exterior, not only creates a more pleasing aesthetic as opposed to the typical white exterior, but it also transforms your mobile unit into a valuable marketing asset. A full body graphics wrap will be the most striking layout for drawing the eyes of potential customers in contrast to spot graphics against a white trailer exterior, but the choice is entirely up to you and what meets your specific marketing needs.
No matter your design selections, including decorations to a restroom trailer helps to add a unique personal touch that your guests will love.
Check out all of our restroom trailer series by clicking here.