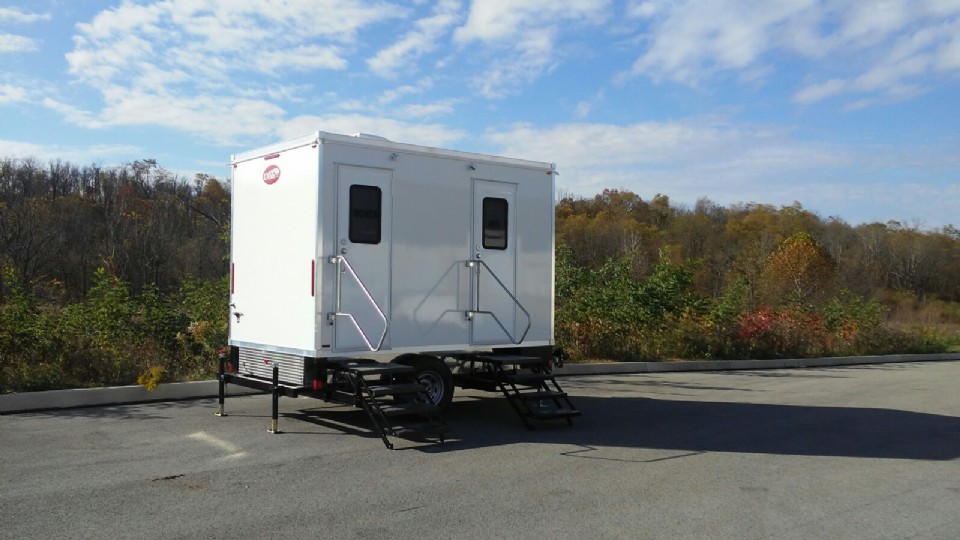 Lang Specialty Trailers PRO Portable Restroom Trailers are designed and manufactured by individuals who have vast experience working in the special event planning industry. They saw the need for easy to install restroom trailers with end users needs in mind.
One of the main benefits of the PRO Series is that it can be used in almost any circumstance where a portable restroom trailer could be valuable asset. This ranges from luxurious weddings to construction sites.
What Are the Main Advantages of a Lang PRO Portable Restroom Trailer?
Easy Maintenance: The gel coated fiberglass used for the interior and exterior walls, subfloor, and roof are easy to clean with a strong slick surface that repels dirt. It can also easily be cleaned with a rag and household cleaning products.
Efficiency: Set-up is made simple and easy with self-leveling slide out stairs that allow for quick deployment with no tools necessary. The stairs can be set up on uneven ground or a curb. The fold out hand rails only require a jack wrench and a level for set-up. Each handrail is stored on the side of the trailer with a swivel bracket that locks in place.
You Are in Control: The oversized mechanical room puts you in control of your mobile restroom trailer. The door and mechanical room are big enough for end users to comfortably step inside their unit and easily access all controls of component of their trailer.
For more information on our pro units click here.