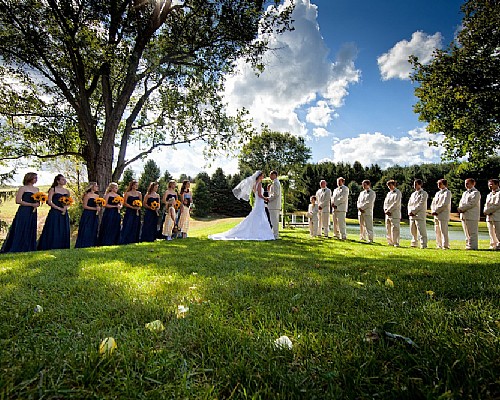 Barn weddings are extremely popular right now and many farmers are taking advantage of this by turning their barn, and farms into wedding venues. One of the biggest problems barn wedding venues face is having restrooms to handle the capacity of a wedding crowd. Often a restroom trailer is the easiest and most affordable solution.
When barn wedding venues consider building permanent restroom facilities on site they often run into many problems. Getting permits to build the restrooms can be expensive and time consuming. Another major problem we often see these venues have is access to public sewage and water. If they are lucky enough to have access to water and sewage it can be very expensive to pay tap fees and have the lines run.
Using a restroom trailer allows the wedding venue owner to bypass all of these hurdles. No permits are needed, no time is needed for construction, and the restroom trailers have on board fresh water and waste tanks so no access to public water or sewage are needed. Not only is a restroom trailer often the quickest solution, but often it costs less than building a permanant restroom. Another advantage of using a restroom trailer rather than building a permanent restroom is the resale value. If the barn wedding craze ever goes away you will be able to sell the restroom trailer and get a good return on your investment.
If you would like to learn more about restroom trailers and how one can be utilized at your venue please call Lang Specialty Trailers at 724-972-6590.