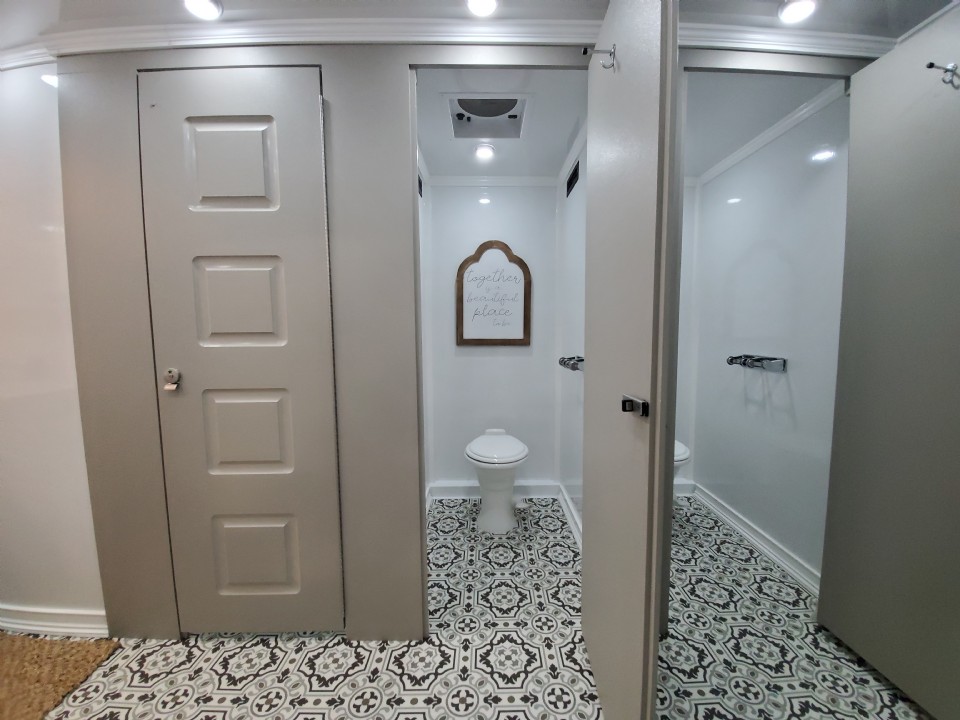 Before purchasing or renting a mobile restroom trailer, there are a number of factors to consider. As veterans in the event planning and portable restroom trailer industry, we have some tips for first time buyers and renters.
Placement:
Will the mobile restroom unit be a temporary fixture at multiple different events or used as a permanent fixture on a fixed location? If you have an event that covers a large area you may want to consider using multiple small trailers rather than one large trailer that is centrally located.
Number of People:
The configuration and size of your trailer will be determined by the number of people that will be using it at an event. This question is not the only question you need to ask to determine restroom trailer size for an event, but it is probably the most important one. In general, you can use the below chart to size trailers for events that are 6 hours or less.
2 Station Restroom Trailer Up to 150 people
5 Station Restroom Trailer Up to 300 people
9 Station Restroom Trailer Up to 400 people
Types:
Lang Specialty Trailers offers several unique lines of restroom trailer options with each designed and manufactured to meet the unique needs of each of our end users. Different offerings include our PRO, ECO, Luxury, ADA, and Park Series.
PRO: Our Pro Series trailers are our flagship series of portable restrooms for sale that have been designed with the restroom trailer rental company in mind. The Pro Series can be used in almost any application. It is elegant enough for wedding use and built rugged enough to handle even the most demanding public events.
ECO: The ECO series restroom trailers were designed to provide a more affordable restroom trailer option for first time restroom trailer buyers and seasoned veterans alike. Even though this trailer comes at a lower price it is made with the same quality materials and craftsmanship that our customers have grown accustomed to in our PRO series trailers.
Luxury: These high-end trailers are outfitted with full length doors, decorative flooring, upgraded lighting, crown molding trim, and much more. Guests will step into a lavishly furnished mobile restroom unit that provides the same comfort and ease of an extravagant interior restroom. Our luxury model trailers are excellent for wedding venues, wineries, corporate events, businesses, and countless other special occasions.
Park: Our Park Series can easily act as permanent or semi-permanent fixture when needed. End users have the option to build a ramp leading into the unit or we can build and provide one to meet your unique standards. This mobile restroom unit is designed to meet the Americans with Disabilities Act and provide ease of access for individual in a wheelchair or elderly end users.
ADA: This series is designed and manufactured to specifically meet the Americans with Disabilities Act and provide ease of access for individuals in a wheelchair or elderly end users. The ADA Series of trailers frames are designed to be lowered during install to shorten the length of ramp needed to access the ADA cabin of the trailer.
Weather:
Whether or not your trailer needs a winter package can easily be determined by where you are located geographically, or if you plan to use your mobile restroom trailer in the winter months. Lang Specialty Trailers offers winter packages for end users located in areas where temperatures can reach below freezing.
For more information, please call us at: 724-972-6590